Frequently Asked Questions about our lube, your order & CBD
Everything you need to know about our products, your order & CBD!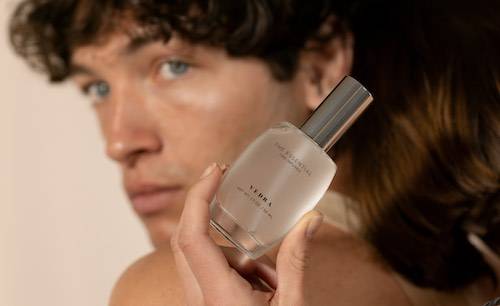 Frequently Asked Questions
Where do our products come from?
We only source merchandise from socially responsible businesses with ethical manufacturing practices. 
The glass bottles are manufactured in Italy, the paper packaging is made in Germany, and the gel is produced in TheNetherlands. 
We assemble all the pieces by hand in Berlin.
What are my shipping options?
Standard Delivery: 2-5 working days.
Express Delivery: Fulfilled on same day, delivery in 1-2 working days.
International: 2-5 working days for orders outside Germany.
As soon as your order is finalized, you will get an order confirmation with your order number. After we fulfilled your order, you will receive a second email with the tracking code provided by DHL. Visit https://www.dhl.de/en/privatkunden/dhl-sendungsverfolgung.html and enter your tracking number to see the status of your order.
Will my order get to me without any issues?
Every order up to €500 is insured by us.
We use DHL Paketdienst (National/International/Express)  for deliveries inside Germany and abroad. All of our shipments get an individual tracking code, where both our customers and us can view the status of the order.
Do you offer discrete packaging?
Since our product is designed to reinvent the imagery of products for Sexual Wellbeing, our packaging is as contemporary as the product. 
'THE ESSENTIAL' is shipped in a natural carton box, revealing nothing of the product while fully protecting it on its journey to your home.
What forms of payment do you accept?
We accept all major credit cards (Visa, Mastercard, AMEX), Mastercard Debit, and GiroPay. Furthermore, we offer payment through PayPal and Klarna, where payments can be transferred instantly or via monthly instalments. 
How do I return products?
Kindly send an email to hello@findvedra.com so we can process your request individually.
Is 'THE ESSENTIAL' vegan?
Yes, 'THE ESSENTIAL' was curated with utmost care towards our environment, which led to a vegan product, free from silicones.
Where is 'THE ESSENTIAL' made?
The gel is produced in The Netherlands.
What material is the bottle made of?
We use glass bottles to move intimate moisturizers into a new, bright light. Consciously moving away from stigmatized plastic bottles in all colors.
What's the shelf life of 'THE ESSENTIAL'
Following the laws of cosmetics, the intimate moisturizer will officially "expire" after six months after opening the bottle. However, from our own experience, the gel lasts much longer than that. We estimate a shelf life of one and a half to two years.
How do I store 'THE ESSENTIAL'?
Store your intimate moisturizer in its paper box in a cool and dry environment, out of direct sunlight.
One hemp plant contains around 100 (or more) cannabinoids, which are naturally occurring compounds that, simply put, communicate with cells through receptors located in the nervous system. 
Cannabidiol CBD, one out of the 100, is known to acutely help palliate and even reduce stress, inflammations, and anxiety. These complications can occur before, when, or after having sex, which gave us reason to infuse our intimate moisturizer with precious CBD.
"THE ESSENTIAL" can help enjoy sex more and spark the beginning of your sexual journey.
What do cannabinoids do in my body?
Different systems regulate our bodies, one of which is called the endocannabinoid system (ECS), which, as one can guess by the name, works with cannabinoids.
Not only humans but also almost every animal inhabiting earth has an ECS, which, unlike other systems, is not centralized and therefore, receptors are found all over our body. Essentially, two special receptors, CB1 and CB2, that make up the ECS, react with substances and activate through binding these to the them. Most vital is the ECS' role of promoting much-needed stability in the internal environment. To reach homeostasis, it is assumed that the ECS can influence other systems and processes as well.
Since CBD is a cannabinoid, it can react with our internal ECS and work its body relaxing magic.
Does my body really produce cannabinoids naturally?
Yes
, the human body produces endogenous cannabinoids naturally, whether one uses cannabis, or not. 
So far, two types of cannabinoids have been identified and were named scientifically (aka complicatedly): AEA and 2-AG. 
These cannabinoids react with receptors, 
which make up our endocannabinoid system (ECS). The reasons behind our bodies producing cannabinoids are to maintain balance and keep things running smoothly. Reaching homeostasis is the most main task of our endocannabinoids and ECS.
In short, what is the difference between full-spectrum CBD, broad-spectrum CBD, and a CBD isolate? 
The fastest explanation is about the CBD isolate, which is pure Cannabidiol (CBD), meaning that all other cannabinoids and terpenes (compounds responsible for the plant's smell) have been detached and eliminated from the substance.
Moving on to broad-spectrum CBD, it is a mix between the isolate and the full-spectrum version as it contains some other cannabinoids but no THC at all.
Lastly is full-spectrum CBD, which is also featured in "THE ESSENTIAL". It comprises the whole range of cannabinoids found in the hemp plant, including THC.
Why did we choose full-spectrum CBD?
Recently so many variations of CBD products have reached the market that it can be quite a challenge to keep track. Especially full-spectrum CBD has been mentioned more and more, and has been a key driver of growth in the industry. 
Just like bees in a hive thrive under their interdependence, CBD works best when all the other components of the hemp plant are included in the formula that is created from the plant. Research has shown, that CBD is indeed more effective when it is combined with other cannabinoids, especially THC, and terpenes. The effect when substances work better together than isolated is called the entourage effect.
Terpenes are aromatic compounds that can be found in almost every plant or fungi. They make up most of the essential oils we know, for example limonene (in lemon peels) or eucalyptol (in eucalyptus). Next to their loving smells, terpenes (of which the hemp plant has over 140 of) have been studied to have an impact on how our body reacts to cannabinoids, meaning it can improve effects or absorption.
The other components are phytocannabinoids, such as CBD or THC. Yes, even THC. No worries, when we talk about full-spectrum CBD, only tiny amounts of THC are added just for the sake of offering the whole palette of positive effects. It has also been observed that with full-spectrum CBD, the doses can be reduced drastically when compared to a CBD isolate.
The rise in popularity of using CBD allowed an array of possibilities on how to do so to emerge with it. In the Sexual Wellbeing industry, CBD-oils have gained significant attention in particular due to their trouble-free administration, which can essentially be via the whole body. This is enabled through our ECS (endocannabinoid system), which, on one hand, produces cannabinoids on its own, and, on the other hand, has receptors spread out throughout our bodies, which react with cannabinoids from the hemp plant. 
They are even more concentrated in the female intimate area as the mucous membrane is packed with them. After applying a CBD-infused oil, gel, or creme to the intimate area, the substance will be absorbed within 30 to 60 seconds. Even though the admission and the following effects should display themselves rather quickly, it is recommended to at least wait five to ten minutes before applying more.
No. Often CBD is associated with making you high because it stems from the same plant as the famous cannabinoid THC, the psychoactive substance in the cannabis plant. To be perfectly clear, CBD is nonintoxicating. Actually, the hemp plant on its own will not make you high either, it is the blooming flowery buds full of THC that generate the dazed feeling. Even though CBD relaxes your body and helps with anxiety, it does not cloud your mind.
In Germany, the legal amount of THC in one product is set at 0.2% - much too little to elicit a psychoactive reaction. "THE ESSENTIAL" only contains 0.05% THC, which is even less than it could contain. The only reason for including THC in our intimate moisturizer is the fact that we want to offer full-spectrum CBD for the whole experience.
No. This aspect of CBD topic has been massively researched as this is the main pillar of reasoning why the substance was given its legal status. It is so non-addictive that it can even be used to support curing other drug addictions.
Are there side effects of using CBD moisturizers? 
When using CBD products
topically
, meaning only applying it externally like on your 
skin, no side effects have been associated with them. There has seldom been a substance with as little side effects recorded as CBD, which makes it even more valuable.
Therefore, 'THE ESSENTIAL' is completely safe to be used as much as you like. Simply follow your feeling.
Is it safe to use CBD while being pregnant or while breastfeeding?
At the moment, there is no conclusive scientific evidence that CBD products are or are not safe to use during pregnancy and later while breastfeeding. However, doctors and researchers currently advise against it just to be sure that it will neither harm the mother nor the child.
Is there a guarantee that CBD intimate moisturizers work on me?
As our bodies and our sensations are different from one person to another, there is, unfortunately, no guarantee that a CBD moisturizer will show the desired effects.
"THE ESSENTIAL" by VEDRA will, however, definitely enhance your experience due to its enticing smell and the smooth texture of the gel gliding over your skin.
Are hemp seed oil and CBD oil the same?
No.
Hemp seed oil is directly derived from the seeds of the hemp plant, whereas CBD oil is extracted from the flowers, leaves, and stems. A similarity is that both these products do not work on a psychoactive level, meaning they will not get you high.
Some oils, be it hemp or CBD, may contain minimal amounts of THC, but that is only incorporated in order to enhance and support the main ingredient CBD. 
Again, scientific research backs this assumption of CBD being more effective when tiny parts of THC are included in the formula. This form of CBD oil is called full-spectrum CBD, which is also used in "THE ESSENTIAL".
Will CBD affect or react with other medication I'm taking?
It might. Even though "THE ESSENTIAL" is a topical gel, it still enters the bloodstream through the mucous membrane, which might let it react with medication. Especially pharmaceuticals that lower the blood pressure can react negatively with CBD products since CBD flattens blood pressure as well. 
It is not quite clear yet whether that applies to all products containing CBD or just the ones with an intent to work internally, not topically.
Can CBD be absorbed through the skin?
Yes
, but only with water-based products. Both oil and silicone gels are often designed to be long-lasting and, hence, rather clog pores than widen them.
Applying it in one localized area will allow the compound work centralized as is the case for "THE ESSENTIAL". While taking CBD in the form of capsules can take effects on the whole body, the main foci points for "THE ESSENTIAL" are to sooth, ease, and entice the intimate area.
Can CBD be converted into THC in the body?
No, it cannot.
Some researchers suggested the possibility, but more detailed and recent German and Austrian research recorded that this is, in fact, not the case. The human body does not have the acids needed to perform the alteration. It needs to be stated that for most studies concerning this topic, the substances were
consumed via oral administration, which is not the case for VEDRA.
Outside the body, CBD can be converted into THC, but only under acidic conditions, meaning that it has to be treated with chemicals to start the process.
Will taking high doses of CBD increase its effects?
No, the opposite will take place.
Taking too high a dosis will cause adverse effects such as extreme fatigue, lack of energy, stomach problems, or other unpleasant consequences.
While "THE ESSENTIAL" only contains 3% full-spectrum CBD, it is quite the mission to take too much due to the tiny amount of the substance in the gel. Therefore, overindulging may not concern you at all when you are committing yourself to your Sexual Wellbeing.
Leave a comment